Jockmail Reflective Faux Leather Spandex Trunks
Buy it now
Introducing the vibrant Jockmail Reflective Faux Leather Spandex Trunks – the perfect underwear to make you feel bold, sexy, and full of life.
The innovative design of our Jockmail Reflective Faux Leather Spandex Trunks combines faux leather with reflective properties so you can be the center of attention on any occasion. The addition of spandex gives the pants excellent stretch and breathability, allowing you to feel comfortable while wearing them.
The Jockmail Reflective Faux Leather Spandex Trunks Product Details:
Material: Spandex
Comfortable and breathable
Multiple colors available
Sexy, playful & unique design
This product has a tight sizing. For a more accurate fit, please use the measurements provided and not the letter sizes. If in doubt, move one size up for a looser fit.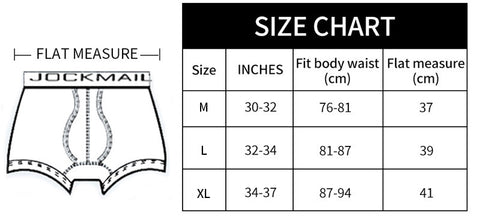 **Please note, most of our products are stored in multiple warehouses around the world for faster shipping; however, this product is sent from one location only. As such, it has a longer estimated delivery time of up to 15-30 days, depending on your address/location. Please contact us in advance should this be an issue**
THANK YOU! YOU'RE ALREADY SUBSCRIBED TO THIS LIST!